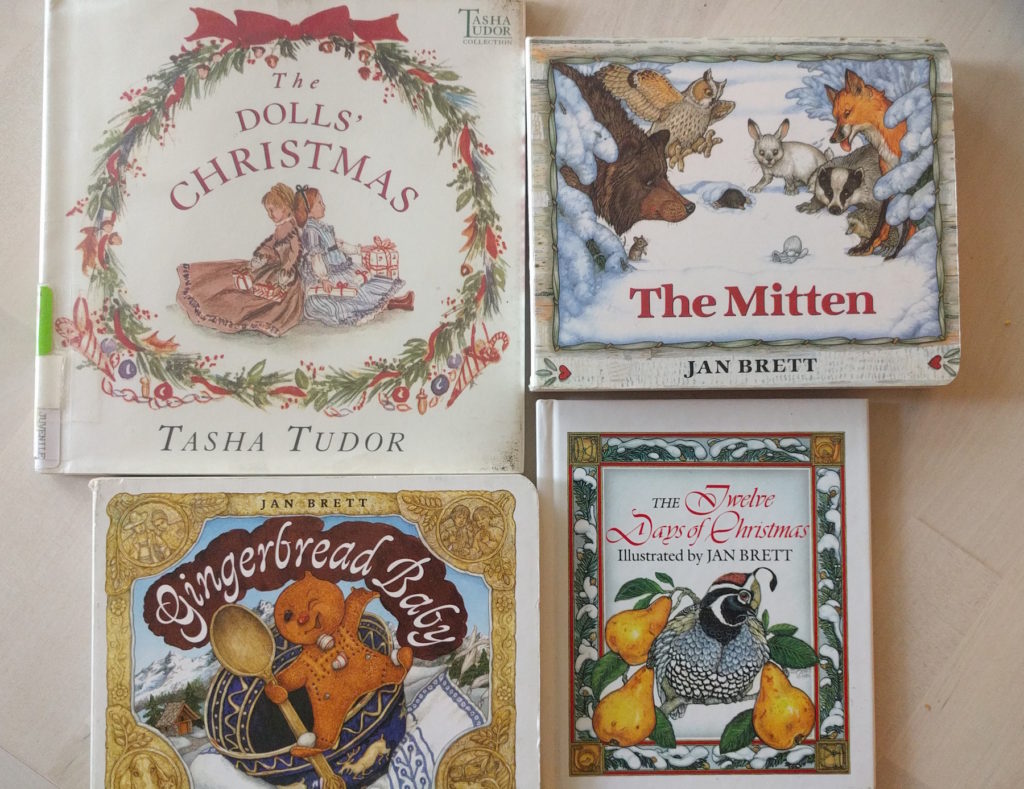 We have been reading a lot more since school is out for the holiday and our activities are on hold. It has been nice to visit the library with more frequency and we have read so many great books lately. Usually I will find many new picture books and a few non-fiction and Emma will pick up a stack of the short character stories like Strawberry Shortcake and Peppa Pig and we will read through them all. Here are some of the holiday/winter titles that we have been enjoying at home and from the library.
At home we own many books by Jan Brett as we love her illustrations. "Gingerbread Baby" and "The Mitten" are favorites. I also picked up this tiny copy of the "12 Days of Christmas." The way she uses borders around the main pictures in all of her books is so brilliant.
I recently ordered a copy of a book from the Noisy Village series that we did not yet have. I know there is a "Christmas in Noisy Village" but I had read that you could get the same story by getting the longer chapter book. We have not read the whole thing yet but skipped to the chapters in the middle where they celebrate Christmas and it is wonderful!
Emma is in love with the book about "The Dolls' Christmas" by Tasha Tudor. I picked it up at the library knowing she would fancy it and I had no idea that it was a true-ish story! Such a sweet little read.
We were sad to be missing "The Nutcracker" this year (although the holiday concert was a fantastic event) but still read the story often. We own a copy but have to look at other versions whenever we find them because the illustrations are always so good.
Of course we also have "The Snowy Day" and LOVE the new animated version so much. Ezra Jack Keats' story and style of illustration is so beautiful and the new animated one is up to par.
Thinking about reading the chapters in "Mary Poppins " where they go downtown to the big department store to buy Christmas presents. We love the part when Maia the star comes in to get things for all of her siblings. Also the part about the gingerbread wrapped in paper with stars gets me every time. It is so memorable.